What started out as a largely peaceful protest outside the Fullerton Police Department headquarters on Saturday escalated into a series of tense confrontations between some of the demonstrators and police in riot gear.
According to police, 14 protesters were arrested, with two arrests for vandalism, one for assaulting a TV news videographer, one for robbing a grocery store and 10 for failing to follow an order to disperse.
More could arrests are likely to come as video footage is reviewed, police wrote in a statement released Saturday.
The protest was sparked by the recent acquittal of former Fullerton officers Manuel Ramos and Jay Cicinelli in the July 2011 beating death of Kelly Thomas, a homeless man who was diagnosed with schizophrenia.
Kelly Thomas' father, Ron, has repeatedly called for protests to remain peaceful. But, he says, a "splinter group" showed up on Saturday.
"I think that they are people who take advantage of an opportunity," Thomas said in an interview, adding that another TV news reporter was surrounded in her van earlier in the week.
"That's not what we're about at all," he said. "We never have been."
Following the arrests, several of the 40 or so demonstrators who remained into the evening said they had no knowledge of the news crew attack, and were peacefully expressing their right to free speech.
"All we did was sit in the middle of the street peacefully with our signs up," Stanton resident Victoria Barbero said of herself and her friends.
"The bad element kind of ruins everything," added Garden Grove resident Lawrence Reilly. "They get violent – people throwing rocks at the Slidebar, and, you know, that's not cool, that's not what we represent."
He pointed to one of his fellow protester's signs, which reads: "The Means We Use Must Be As Pure As The Ends We Seek."
In a statement, Police Chief Dan Hughes acknowledged that most protesters were peaceful, but said an unlawful assembly had to be declared after the camerawoman was attacked.
"All efforts were made in an attempt to ensure a lawful and peaceful demonstration could occur," said Hughes. "We went out of our way to accommodate the protestors; coordinating with organizers, providing barricades and blocking intersections for them."
It was the largest known confrontation between protesters and police in Orange County since downtown rioting rocked Anaheim in summer 2012.
The Thomas verdict has sparked outrage among many local residents, who say the evidence of premeditated murder was clear.
The officers' defense attorneys, meanwhile, argued that Thomas was combative and died from a heart weakened by years of drug use.
In reaction to the acquittal, the Facebook group "A California Campaign to STOP Police Brutality" organized Saturday's protest, which started around 10 a.m. in front of the Fullerton Police Department.
For the first several hours it was mostly peaceful.
Demonstrators chanted at passing cars and carried banners labeled "No Justice No Peace," STOP Police Brutality," and "Justice for Kelly T" as 1960s protest songs like "For What It's Worth" played on a speaker.
The scene was in many ways reminiscent of summer 2011, when hundreds demonstrated in front of Fullerton police headquarters.
Many said they were shocked at the officers' acquittal, saying the video footage shows a murder.
"This guy was apologizing! He was asking for his father!" exclaimed Santa Ana resident Jessica Garcia. "Where's the justice in that?"
Anaheim resident Kenyun Rone said he was motivated to protest because his mother has a mental illness and used to live on the streets of Orange County.
"It's a personal issue to me," said Rone. "I thought that the court systems would be more understanding to the little people."
Meanwhile, other demonstrators occupied a busy intersection in front of the police department.
At least a dozen stood in the westbound lanes of Commonwealth Ave., slowing westbound traffic to a crawl.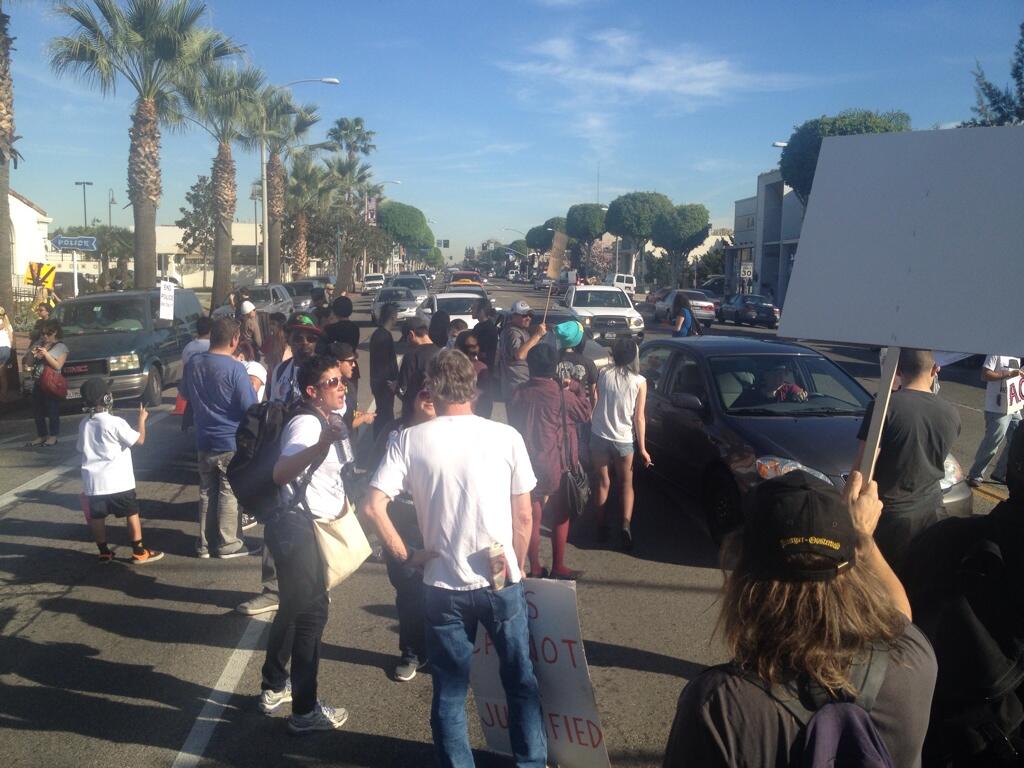 Many of the passing cars honked in support, with some passengers flashing peace signs or holding up posters.
Police remained hands-off for the first few hours.
Then, a KCBS-TV videographer was repeatedly hit by a female protester while filming, according to video from the TV station and a police statement.
Protesters "then surrounded her news van, preventing it from leaving, the news crew called 911 and police stepped in, resulting in the arrest of a Tustin resident" for assault, according to police.
At that point, police say, they declared the gathering an "unlawful assembly."
Unlawful assemblies are defined as gatherings that are violent or "pose a clear and present danger of imminent violence," according to a state Supreme Court ruling.
Around 3:20 p.m., officers in riot gear lined themselves up along two of the streets leading into the occupied intersection.
They were accompanied by a large SWAT vehicle, with a commanding officer declaring on loudspeaker that the gathering was an unlawful assembly.
Those who remained would be arrested, he warned.
That got the vast majority of the protesters to leave almost immediately.
Then, a separate group of demonstrators, several of whom wore black bandanas, arrived at the intersection and shouted at the officers.
"Murderers! Murderers!," they proclaimed in unison.
Police then advanced into the intersection, taking several steps forward and stopping to issue another warning.
After several rounds of advances, the protesters left the area peacefully. A spray-painted anarchist emblem could be seen on the side of the police headquarters.
At the same time, another group was marching on the streets of downtown Fullerton, headed northbound on Harbor Blvd.
At one point, a man got out of his car in the middle of the street and took off his shirt to show protesters a bruise he said was caused by police.
The group of 50 or so protesters eventually turned around on Harbor and headed back toward the police headquarters.
Officers were waiting.
They formed another line across Commonwealth Ave. and started advancing toward protesters at the other end of the block.
Holding signs, demonstrators then sat down and formed their own line facing police.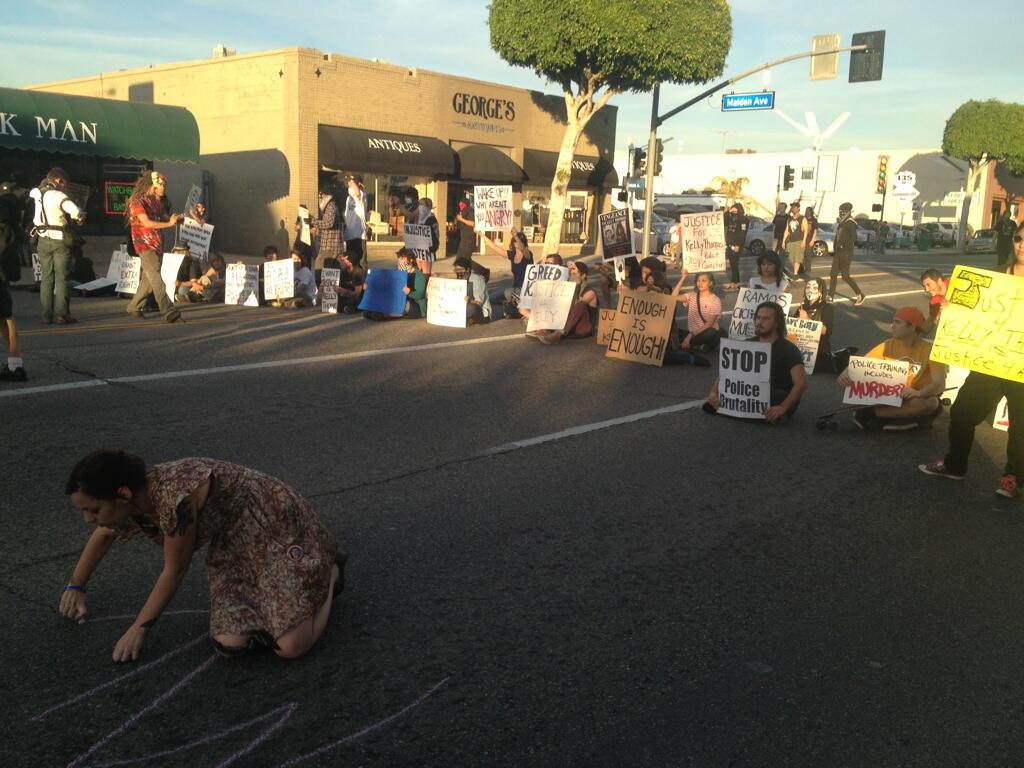 Some officers carried large non-lethal guns.
Others held large wooden sticks or batons.
When the police got closer, protesters moved their line back to the other side of the intersection at Commonwealth and Highland Ave.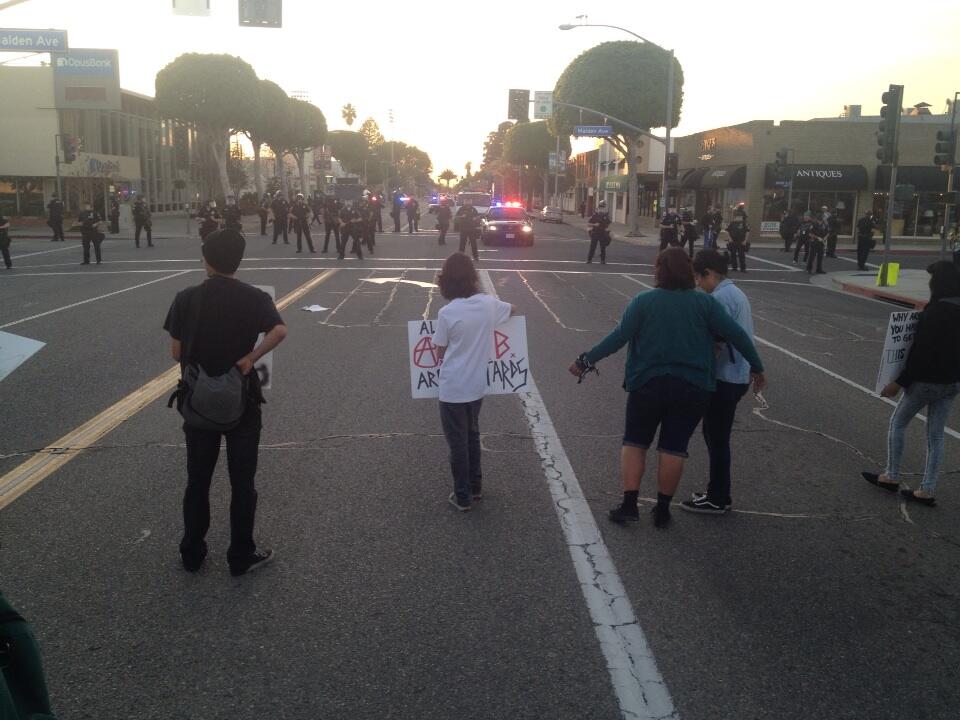 One demonstrator, who was standing close to the police line, was arrested around 4:45 p.m.
Then, a caravan of police cars drove down a parallel street en route to the other end of the block occupied by protesters.
When the protesters noticed the second set of officers setting up, many went through a side parking lot and marched to the bus deport where Thomas was beaten.
Several protesters reportedly remained and were arrested. They included a mother, Jessica Macias, who was accompanied by her young daughter.
Over at the bus depot, protesters stayed largely quiet as they gathered around the flowers and candles that decorate the area where Thomas was beaten. Police were nowhere to be seen.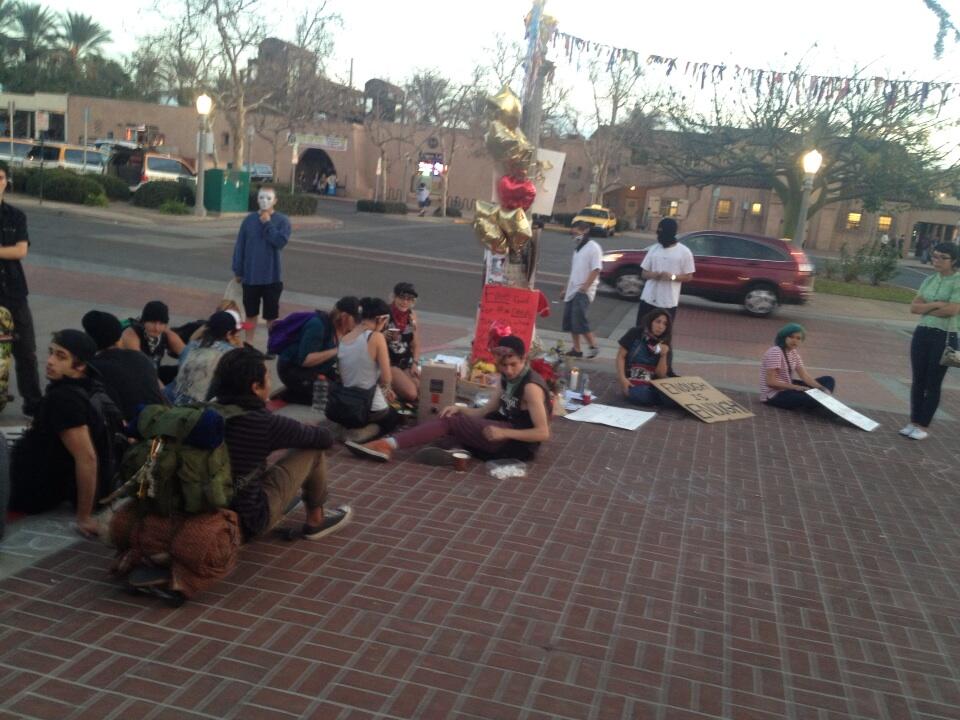 But the quiet was suddenly broken around 5:45 p.m., when officers arrived and chased one of the protesters, handcuffing him on the ground and taking him away in a squad car.
Officers also arrested a woman standing next to the memorial, and then left the scene.
About 20 minutes later, officers returned, arriving in a caravan of cars and running though the parking lot before leaving again.
Eventually, about 30 of the remaining 40 demonstrators walked back to the police headquarters to demonstrate some more – from the sidewalk.
Beyond the Facebook-based planning, the protest also demonstrated the power of the Internet as a social organizing tool.
Throughout the day, demonstrators broadcast live video that was viewed hundreds of times.
Additionally, well over 100 people in Orange County and around the world tracked events on Twitter in real-time, often commenting and sharing updates with others.
And global awareness of the Kelly Thomas case was given a boost by WikiLeaks, which tweeted the full beating video to its 2.1 million followers:
Full CCTV video: The slaying of #Kelly Thomas by Fullerton CA police http://t.co/X4VQvvKQmE

— WikiLeaks (@wikileaks) January 18, 2014
Going forward, the officers still face an FBI civil rights investigation, which could lead to federal criminal charges.
Now that the main trial is over, Kelly Thomas' father says his primary focus is on changing a state law that seals police disciplinary records from public scrutiny.
"I'm going to get the Peace Officers' Bill of Rights to where we the people have the absolute right to know when an officer has been disciplined," said Ron Thomas.
"They're public servants, and we have the right to know."
As for the local level, Thomas says he's expecting "an overflow crowd" at Tuesday's Fullerton City Council meeting, in reaction to Cicinelli's efforts to get his job back.
The meeting starts at 6:30 p.m. at city hall.
You can reach Nick Gerda at ngerda@gmail.com, and follow him on Twitter: @nicholasgerda.
Since you've made it this far,
You are obviously connected to your community and value good journalism. As an independent and local nonprofit, our news is accessible to all, regardless of what they can afford. Our newsroom centers on Orange County's civic and cultural life, not ad-driven clickbait. Our reporters hold powerful interests accountable to protect your quality of life. But it's not free to produce. It depends on donors like you.