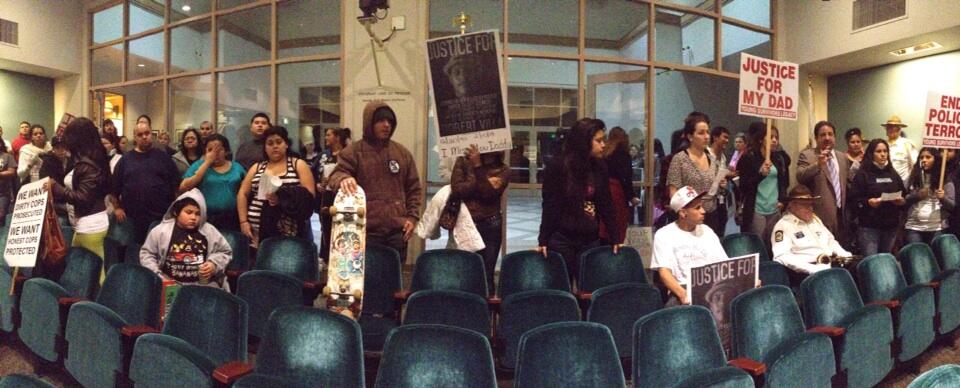 A crowd of demonstrators showed up to Tuesday night's Tustin City Council meeting to protest the recent police shooting death of Robert Villa.
Villa was shot by Tustin officers responding to a disturbance call on Feb. 10, interim Police Chief Charles Celano told council members.
Celano said Villa confronted officers with a knife, something disputed by an attorney representing his family.
Villa was later pronounced dead at Western Medical Center in Santa Ana.
Just before Tuesday night's council meeting started, the protesters arrived and shouted their demands from the back of the room:
"Justice for Robert, Jail Killer Cops," they shouted, calling for the prosecution of officers involved.
"No more killing, no more lies. Killing Robert was a crime," the demonstrators declared, urging others to "film the police."
A woman identifying herself as Villa's aunt claimed that police have falsely claimed her nephew had a knife.
The police chief, meanwhile, told council members that officers were confronted by Villa, "who was armed with a knife."
After shooting Villa, "Officers immediately rendered first aid" to him and called paramedics, Celano said.
As Celano gave his account of the shooting, protesters demanded that Villa's mother be allowed to speak immediately.
"Let her speak! Let her speak!" they shouted from the back and sides of the council chambers.
Mayor Al Murray appealed for silence.
"Ladies and gentlemen, please be quiet…we're gonna allow the public to speak as soon as this is completed," the mayor said, pointing to the police chief.
That prompted more shouts from the protesters, who continued to demand that the mayor "let her speak."
Unable to calm the crowd, Mayor Al Murray then put the meeting on hold.
"Ladies and gentlemen, we're gonna take a recess until such time as everybody wants to allow us to proceed accordingly. We are recessed," said Murray, banging his gavel.
Villa leaves behind a young son, as Robert Villa's mother tearfully told city officials while they were leaving the room.
"Now my grandson lost his father. And my grandson asks every day, 'Where's my daddy?' You guys took him away from us," said Leticia Villa, crying as her voice broke.
"I want to know who killed my son…I want to know all their names, because I want to pray for them…I cannot sit here and hear this man make an excuse of why they took my son's life away."
After a few minutes, council members returned to hear public comments.
Humberto Guizar, an attorney representing Villa's mother, said witness testimony contradicts the police account.
"Our witnesses have stated that he did not have a knife," said Guizar.
The council members expressed condolences and called for patience.
"I just want to offer my condolences to your families…my heart goes out to all of you," Murray said on behalf of the council.
"I would ask that you please be patient and allow the judicial process to move forward," he later added.
Prosecutors with the Orange County district attorney's office are investigating the shooting.
In an interview, the interim police chief declined to comment on claims that Villa was unarmed, citing the ongoing investigation. He confirmed that officers typically turn on audio recorders when responding to an incident.
Celano said he and the city manager are available to talk to the family at any time
The city is also working with a representative of the Orange County Human Relations Commission to "try to come to some mutual understanding" with the community, Celano said.
At the end of Tuesday's meeting, Mayor Murray directed city staff to explore setting up a neighborhood meeting regarding the shooting.
You can reach Nick Gerda at ngerda@gmail.com, and follow him on Twitter: @nicholasgerda.
Since you've made it this far,
You are obviously connected to your community and value good journalism. As an independent and local nonprofit, our news is accessible to all, regardless of what they can afford. Our newsroom centers on Orange County's civic and cultural life, not ad-driven clickbait. Our reporters hold powerful interests accountable to protect your quality of life. But it's not free to produce. It depends on donors like you.